Mount Fremont Lookout Take 2
Mount Fremont Lookout Take 2
Last year when I attempted to hike the Mount Fremont Lookout trail, acute mountain sickness (AMS) hit me, forcing me to quit when I was around halfway there. It seems that any time I hike above 6,200′ in elevation, I get sick (unless I'm able to acclimate for a few days prior to hiking). I really wanted to give it another try, this time after taking a steroid prescribed to me that was supposed to help with the AMS.
Vomit spot: 6,742′ in elevation
Mount Fremont Lookout: 7,169′ in elevation
I spent the night in Enumclaw so I wouldn't have to get up quite as early in the morning. Even so, I got up around 4:45am, through on some clothes, stopped at McDonald's for a sausage biscuit and coffee, and drove another 1 .5 hours to the Sunrise Visitor Center in Mount Rainier National Park.
I was rewarded for my early morning start with an amazing sunrise! It had been a very long time since I was up early enough to see such a brilliant sky!
I was leading the hike and waited for the six others to show up. I think we finally started the hike around 7:30am.
After making it to Sourdough Ridge, I pointed out where I hurled last year, and was praying I wouldn't get sick again (even though my stomach was already feeling queasy). About 100 yards past the hurling station, I doubled over and had a repeat of last year. At least this time there was something in my stomach and I wasn't dry heaving!
Since I was feeling so poorly, I asked another person on my hike if they could take over and lead the rest to the lookout. I knew I wasn't going to be able to make it. Damn AMS! I waited by Frozen Lake while they pressed on.
About an hour later, I started feeling better and decided to hike up the first Burroughs Mountain (there are three). I didn't get to the top (because I was afraid of the others returning and missing me), but what I did do offered me some amazing views. I was breathing easier, too, so I think the AMS medicine was finally kicking in. The downside of the medicine, though, was that it made my vision blurry and gave me a 24-hour headache. Yuck!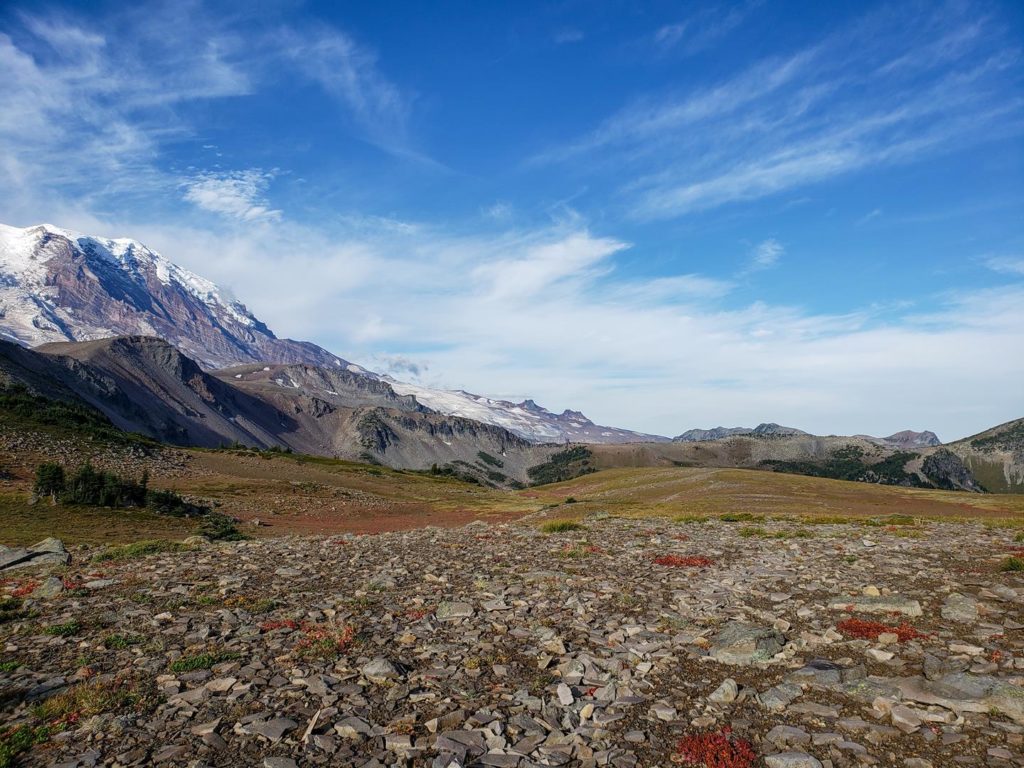 I'm not sure if I'll trying to reach the lookout on a future date. I really want to, but I'm not sure my body will cooperate. Thankfully, there are great trails in WA that aren't as high in altitude.
Sunrise from Sunrise Point

Hello beautiful!

Frozen Lake with trail to the lookout along the mountain.

Looking out over the meadow from Burroughs Mountain

Mountaineer Hikers

Dramatic Clouds.

View of Mount Rainier from the first Burroughs Mountain