Labor Day Weekend With Grandkids
Labor Day Weekend With Grandkids
I don't get William to come along camping with me very often, but over the Labor Day weekend, he agreed to join me and the granddaughters at Brooks Memorial State Park. I had rented a canvas tent with wood plank flooring, saving us from having to drag a big tent along and then having to assemble it (note to self…must rent one of these again).
Brooks Memorial State Park is located near Goldendale, WA, and about a 30 minute drive to the Columbia River and Maryhill Stonehenge.
Our first night, we had an early dinner of hot dogs so that we could get to the Maryhill Stonehenge for sunset. The Goldendale Observatory was another stop since they do a night show on the weekends. I'm glad I looked it up, because the Observatory was closed due to reconstruction, but they were still having the night show at the Maryhill Stonehenge, their temporary location. Cool…no need to drive two different places!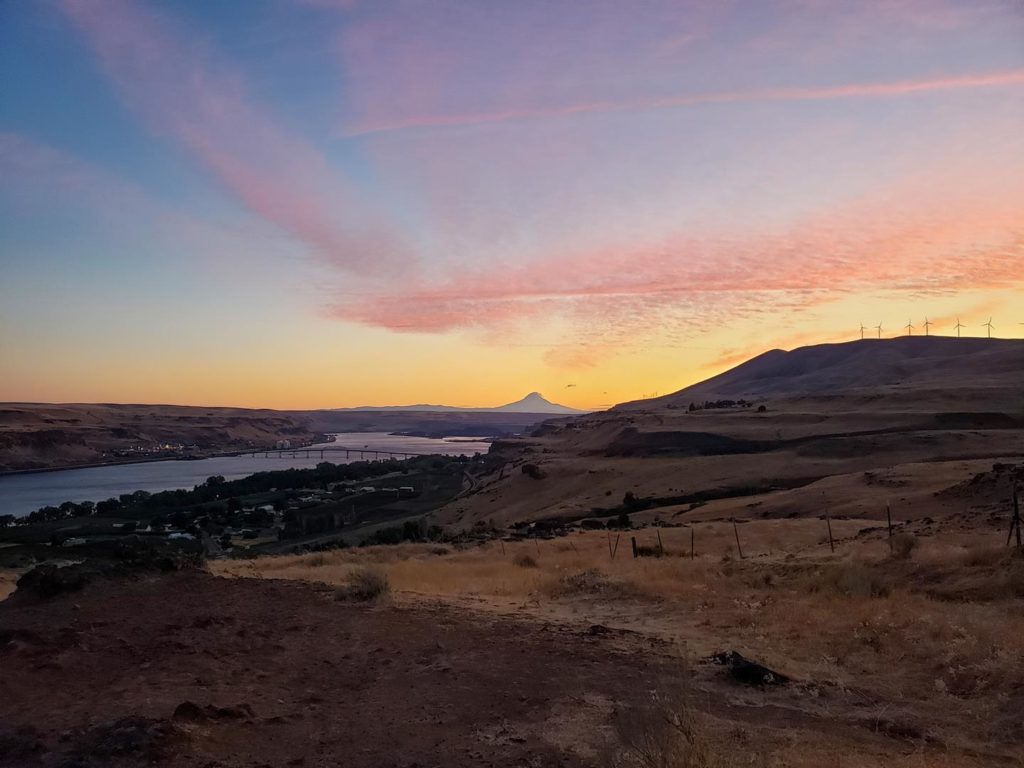 The girls thought the Stonehenge was cool, but after running around a bit, I knew they were getting bored as we waited for it to get dark enough for the Observatory's night show. Luckily, I had two new kits in the trunk of my car!
They had a wonderful time flying one of the kites (the other had a faulty line) and the wind at this location was excelling for kite flying!
While they were flying the kite, with William's supervision, I too sunset photos with my smartphone.
When it was finally dark, I found that I could see Saturn and Jupiter with my naked eye (they were so bright). But, it took looking through the telescopes to see Saturn's rings and Jupiter's moons. So cool!
The next day, we drove to Beacon Rock. The drive took 1 1/2 hours and we didn't arrive until 12:30pm. I usually don't start a hike this late in the day, but there was no way I could get William up and moving early enough to beat the heat of the afternoon!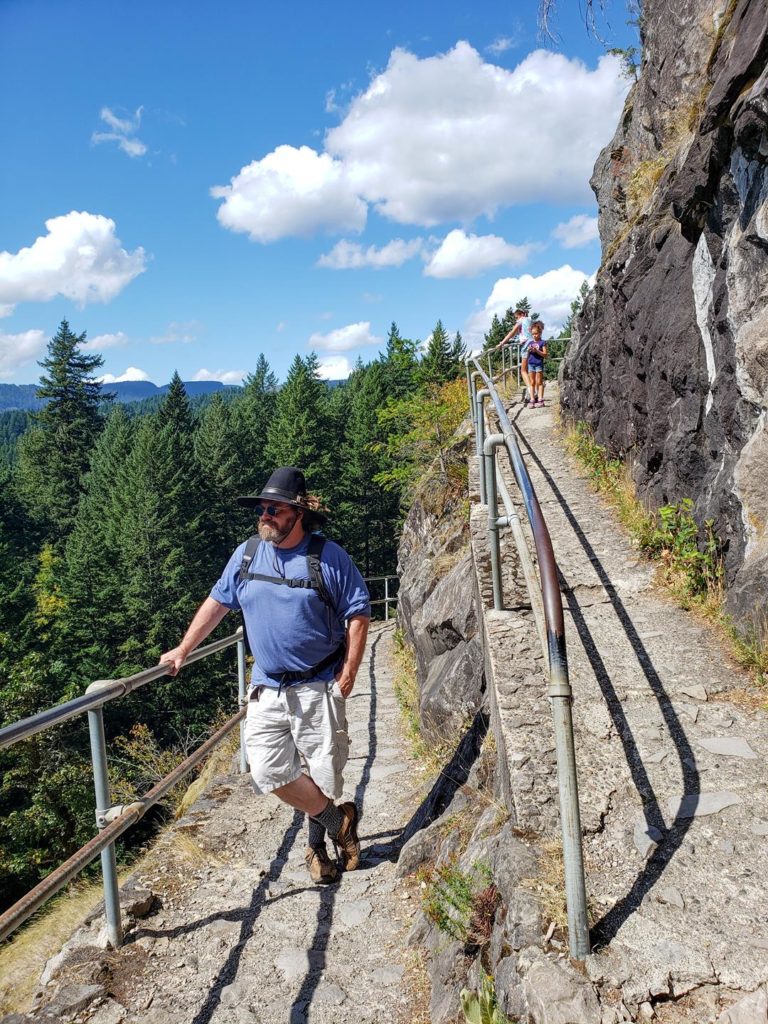 Hiking Beacon Rock is pretty cool, the way the trail is either carved into the rock or walkways suspended along the side. I learned that Beacon Rock is actually the inner core of an old volcano.
Avenleigh pretty much sprinted up the trail while Amiyah would close her eyes to run over the walkways (it freaked her out). I couldn't make it to the top, though, partly due to the sun shining directly on us and partly because I'm out of shape when it comes to a cardio workout. Even so, I still enjoyed the 3/4 of the trail that I did do.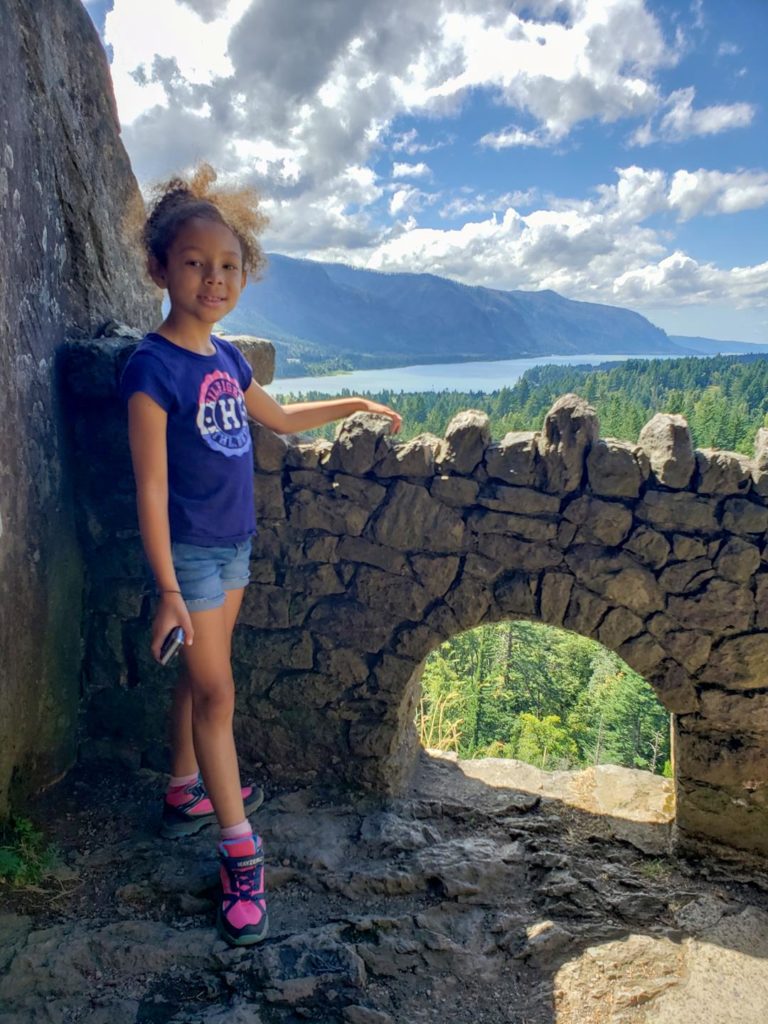 We ate a picnic lunch at the trailhead…or rather, they did. I was feeling awful and had no appetite for the rest of the day (I think my new diabetes injectable, Ozempic, was affecting my appetite).
There was a burn ban, so we couldn't do a campfire. Fortunately, William brought his big burners that he uses at the Renaissance Faire, so the girls were able to still roast their marshmallows. While they were doing that, I went to bed at 6:30pm and slept until around 9pm, when they all came to bed.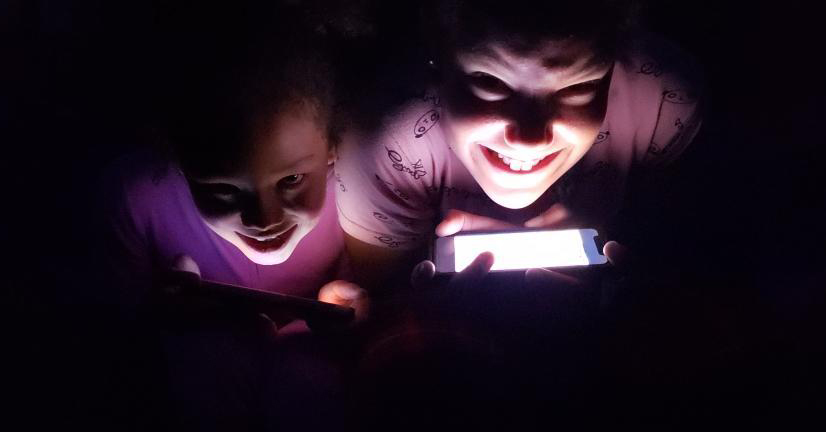 We got up early on Monday, packed up and headed home. I still had to run the girls to their home in Everett, so no rest for me until later.