Making a New Friend
Making a New Friend
Surprise! I'm wide awake. Well, my eyes and mind are, but my body still feels like it could use another eight hours  of sleep. So, I plug in my laptop and decide to write about my trip so far. I think I'll get dressed and go down to get some breakfast. While there, I'll pay for my wireless internet so I can post everything to my blog. I should probably ask about the room safe while I'm at it.
I went downstairs in search of breakfast. Yum! They have boiled rice with various toppings! My cooking instructor calls in Congee…I don't know what they call in here, but this is my kind of breakfast! The rice is boiled and kind of soupy. Then you just add whatever you want to it. I added some sesame oil, hot spices, green onions, fish flakes (bonito?) and some tofu & mushrooms. I watch the other guests…they are puzzled and stick to the fruit and cereal. I think I'm the only one that knows how to eat a more traditional Asian breakfast.
It's now around 8 a.m. and I have some time to kill. I'm supposed to tour the city by tuk tuk at 1 p.m. today, so I guess I should locate where I'm to meet and figure out how to get there.
—————–
I'm freakin' pissed! I just spent the last 15 minutes adding to my blog and my hotel's connection logged me out, so the changes didn't save! Grrr. So, from now on, I'm going to type first, then connect and copy/paste to TravBuddy.
After putzing on here this morning, I grabbed my camera and ventured outside. There's a big street market one street over from the hotel, so that's where I headed. For all my bravado about not being afraid to travel alone, I'm really apprehensive about approaching one of the street vendors and asking about the food. I'm also self-conscious about taking photos. I hate being perceived as a stupid American tourist, but I would like to capture what I'm seeing. I don't want to offend anyone.
I finally see some food that looks good and something that doesn't need an explanation to eat, so I ask for a plate of food. It's rice with some chicken dish on one side and pork on the other. The chicken part is simple…I taste garlic and ginger…not sure what else. The pork is ground and spicy, which I love. For the plate of food and some cool tea, the cost is only 16Bht (about 50 cents…exchange rate is around 36Bht to the dollar right now).
I also buy some flower bracelet thingy for 5Bht (what's that? About 7 cents?). I thought it was pretty, but I think it's really to be used as an offering at one of the Buddhist shrines.
I have about an hour to kill before I head to the other side of town for my tuk tuk city tour. I really hope Mike got my message and joins me. It will be nice to talk to another American…at least for a little bit.
———
I walked outside to catch a taxi to the meeting place for the tuk tuk tour around 11:30. I figured I'd walk around a bit to kill some time once there. I lucked out because I taxi was just driving by and he gave me an excellent price of 150Bht. It took about 30 minutes to get to the other side of town. Once there, I crossed the street to walk around. It had just started raining and the vendors were putting up plastic sheets to keep things dry. I wasn't watching where I was stepping and stepped in a hole. Why is it that every time I fall, it seems like I'm doing it in slow motion? I cursed when I hit the sidewalk and everyone was staring at me. Nobody offered to help me up, however. I knew immediately that I was going to be bruised (in fact, looking at my leg now, it's all purple and swollen below the knee). I also scrapped my pinkie toe on the other foot. I gritted my teeth against the pain and continued on with my walk, browsing all the things vendors had to sell. I'm not much of a souvenir buyer. I hate clutter in my house and Thai decoration doesn't exactly go with a Victorian house.
After walking for about 30 minutes, I found my way back to the hotel meeting place and had some lunch (ok, maybe it was second lunch, but I love Thai food so much, I just couldn't help myself). After I ate, I checked in with Intrepid and they told me to wait in the lobby and that my friend had just signed up. That would be Mike…the friend I met here on TavBuddy. I had a seat and a few minutes later, Bee, my guide, came over and introduced himself. Mike walked back inside the lobby and came over to introduce himself, too. About the time we went outside to the tuk tuk, the skies opened up with a tremendous thunderstorm. A tuk tuk is a three-wheeled, motorized rickshaw, so I got pretty soaked…especially my bottom. My new shoes also got soaked from the puddles when we got out to walk around the palace. I could feel blisters coming on my pinky toes…just what I needed!
Anyway, I wasn't expecting a the tour our guide was giving us. I could have skipped one of my other excursions entirely  and saved myself some money. We got to see the reclining Buddha, which has mother-of-pearl in his feet and is covered in gold leaf. We donated some money and got coins to put in the prayer bowls.
Another stop we made was to a temple that had 315 steps we had to climb. I thought there was no way I could do it, but I was surprised at how easy the climb was. The rise of the steps was shallow and there was a place to stop and enjoy a view or waterfall every 25 steps or so. There were also lots of prayer bells along the way.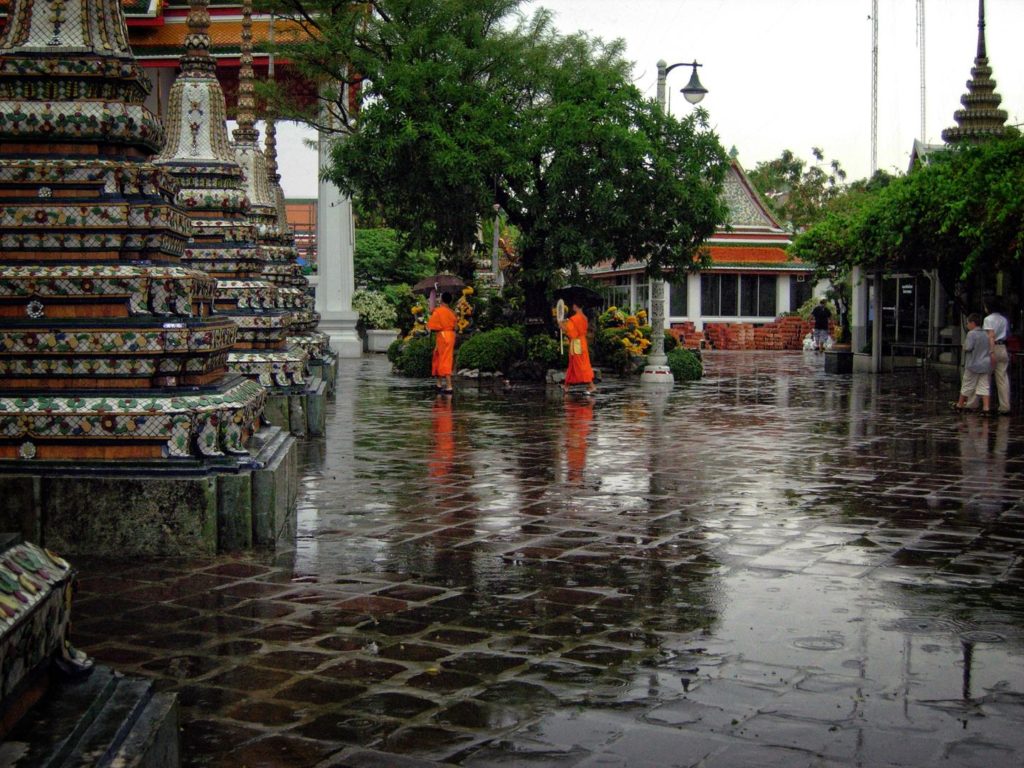 Mike and I got to talk a bit as we rode around the city. I'm fortunate to have met him since it turns out he's on the same medicine I am and is going to give me some to tie me over until I get the overnight package from my husband. We're really different when it comes to travel. I'm so organized and love to have my plans in order. Mike likes to play it by ear and buy his tickets and excursions on the fly. We parted ways after the tuk tuk tour, but Mike is meeting me at my hotel this evening and we're going to dinner. Until then, I think I'll have a short rest.
————–
Mike had trouble finding my hotel, but finally made it and we walked down the street to a restaurant I had scoped out earlier today. It was a really good choice! Not only was the food delicious, but an added bonus was traditional Thai dancing. I had wanted to see a show like that and I found one by accident. Mike is really sweet. He insisted on treating me for dinner. He tried to give them a tip when he paid, but they kept trying to give it back to him. It was kind of comical to watch.
I was going to wait up for Mike to return with some medicine, but I'm exhausted and don't think I can stay awake.