Port Townsend Weekend
Port Townsend Weekend
I was originally going to go camping at Seaquest State Park this weekend, but rain was in the forecast, so I cancelled those plans. Instead, I decided to go over to the Olympic peninsula and ride my bike in the Sequim area. Sequim has a reputation for being in a rain shadow and only gets around 18″ of rain each year, compared to 200″ in other locations on the peninsula.
Since camping sites were full, I decided to stay at the Old Consulate Inn, which is owned by dear friends. It was only the second weekend they were reopened since the Covid-19 pandemic and they could only open a couple of rooms. Not only is it a lovely place to stay, it was a chance to support them instead of someplace where I didn't know the owners.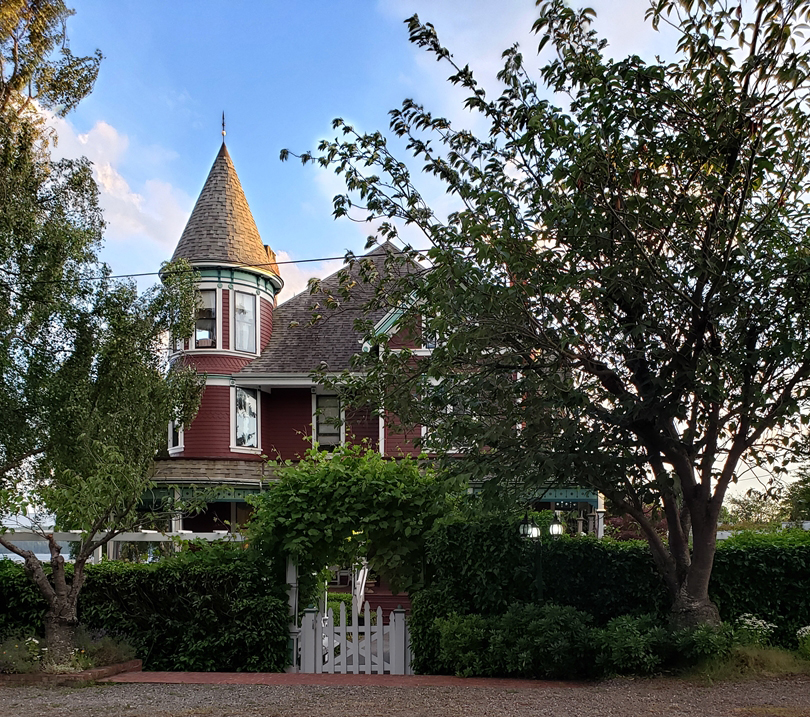 This was also the first trip where I would need to load and unload my heavy ebike by myself. I tried it once by myself before and just could lift it high enough and got huge bruises all over my legs. Though bulky and taking up room in my back seat, I bought a car ramp to aid me in getting the bike up on the rack behind my car. It really helped and I was able to successfully do it several times over the weekend.
I drove to Port Townsend and got to the inn on Friday evening, checked in, then unloaded my bike for a late afternoon ride through Port Townsend.
It was getting towards dinner time, so I picked up a pizza and salad from the Pizza Factory, having a pint of amber ale while I waited. I don't drink beer often, but it sure hit the spot after the bike ride!
When I got back to the inn, I found I could only eat one slice of the pizza but devoured the salad. Sometimes when you're hot and sweaty, you just want something cool to eat!
On Saturday morning, the inn served me the most scrumptious breakfast! I didn't finish the fruit because I was stuffed from everything else. Since I have a weird aversion to eggs that have a hard yolk (I can only eat scrambled, omelet or deviled), the inn accommodated me and put scrambled eggs in my egg blossom instead of a baked egg. Everything was so good! I want my friend to come and make breakfast for me every morning!
When I was done with breakfast, I loaded my bike back onto the rack and drove to Sequim Bay State Park, arriving around noon.
After unloading my bike, I got on the Olympic Discovery Trail (which runs through the park). Heading west, once out of the trees I rode into a strong headwind, making it necessary to go to PAS 2 & 3 at times, especially going uphill. Right before I entered Sequim, I saw a woman on a RadCity and rode with her and her group through town to the Railroad Bridge Park and the Dungeness River, which was their turnaround point. I, however, pressed on to Morse Creek before turning around and heading back.
As I neared the state park, I still had three of five bars of battery left, so I kept going until I reached Blyn. When I got back to my car, I had ridden 29.2 miles over three hours (minus the 10 minutes or so that I stopped for a snack break at Deer Park).
By the time I loaded up my bike and got back to Port Townsend, it was pushing 4pm.
Outside were my friends, along with another acquaintance, so I got to visit distantly for a few minutes before dragging my tired body up to the third floor to my room.
After plugging in my ebike battery, I placed an order for pickup at a Thai place in town, drove to pick up the order and back to the inn, ate the tom yum, then collapsed in the bed. It was too early to go to sleep, so I dragged myself back up and drove to Fort Worden to kill some time. There, I parked and walked to the lighthouse, crossing a wedding party getting photos taken (and not wearing masks or being socially distant when the group photo was finished).
When I got back to the inn, it was too early to go to bed, even though I was exhausted. So, I watched a movie on my kindle and mucked about on Facebook until around 10:30 pm.
I slept like a log and woke up to very sore legs and arms from my bike riding!
After breakfast, I headed back home. I was surprised that the ferry wasn't even full (probably because of the rainy weekend).