Exploring Lakes & Dams
Exploring Lakes & Dams
For breakfast, I made bacon and eggs. Once the dishes were done, we jumped into the car and headed deeper into the Cascade mountains. The first stop we made was at the Visitor Center at Newhalem National Park. I remembered camping here with William years ago before we were married. I would also be camping here in two weeks.
Next, we drove to several scenic view points along WA-20. Most of these stops had waterfalls, including the Ladder Creek Falls in Newhalem near the Gorge Dam. Seattle City Light owns and operates three dams between Ross Lake and the Skagit River, harnesses all that power to light up the city of Seattle, which is about 117 miles to the south.
The rock dust in the lakes reflect the green from the forest and the blue from the sky, making them a very striking color. Ross Lake is teal and Diablo Lake is jade in color. It's one of the prettiest areas in the state.
Back at camp, I got the coals going to cook our dinner. We were baking potatoes on the coals and grilling steak and corn on the cob on the grate above the potatoes. It really worked quite well (briquettes work much better than wood for campfire cooking).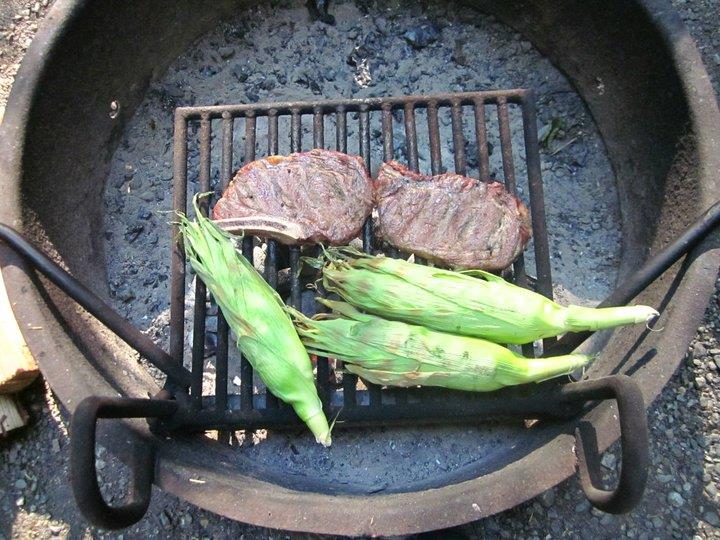 After dinner, one of the rangers gave a slide presentation of the seasons of the elk in the amphitheater. She was so good with the kids.
There was no cloud cover that night, so the temperature dropped a bit lower than the night before. I was chilled enough to make three trips to the bathroom. The girls got up once for the same reason. I'm glad I brought along extra sweatshirts for the girls to wear since they only had only packed thin summer clothes for their trip.