I'm Published in a Magazine!
I'm Published in a Magazine!
I have never considered myself a writer. Sure, I can write down some stories about my adventures, but I never dreamed I would be published (other than my attempts to self-publish my own yearly magazine for family).
So, when the Mountaineers asked me to beef up one of my blog posts for the featured story in their magazine, I experienced all kinds of emotions: excited to share my story, uncertain how to increase it to 2500 words, scared that others wouldn't like it. You know…all the self-doubt one gets from time to time.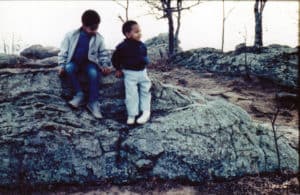 My story is about how my boys and I went camping and hiking as they were growing up. It's about how I now share my love of the outdoors with my granddaughters. And, about how being a biracial family made me feel (which is only a very tiny negative experience compared to how people of color have to deal with that negativity on a day to day basis).
When I wrote the story, I was not trying to exploit stereotypes and based things on my own observations. It's a touchy subject anytime a white person writes something that involves observations into the black community. There are those who are already scarred by stereotypes and "white privilege" that may not like my take on things. So, I acknowledge their feelings and hope they understand that my intent was not to make them feel worse.