Day Trip To Victoria
Day Trip To Victoria
While waiting to board, I asked the woman sitting next to me if she was also traveling alone. She was, but meeting friends in Victoria. We really hit it off and sat together on the ferry, talking the whole 2 1/2 hour trip. She was closer to my mom's age, but that didn't matter…I really enjoyed talking with her. A bonus is that we talked quite a bit about her website and how she could improve traffic to it. So, I think I can use my ferry fare as a business expense (I'll have to ask my accountant).
When I arrived in Victoria, they were just finishing up a family fun run, so some streets were blocked to traffic and there were a lot of people about. One of the first buildings I saw was the Parliament building with it's copper domes, looking green like our Statue of Liberty.
I had printed out a map from Google Maps, so I had a good view of where things were located and what I wanted to do. First on my list was a short walk from the ferry to the Pacific Underseas Garden. Besides having windows to look through to see the ocean floor, they did a live show with a diver who pulled a wolf eel from his hiding place so we could see him (think long and ugly with a huge head). He also prodded a giant octopus to move along the glass so we could get a good view of him. Though I couldn't use my flash and was in low light conditions, I managed to get a few good photos.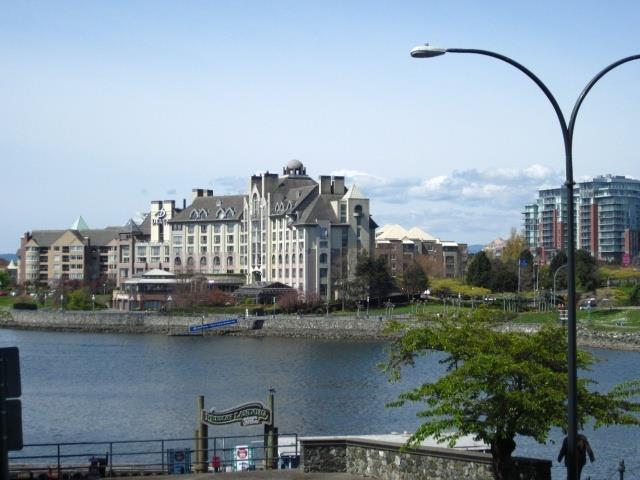 Leaving that location, I walked several blocks towards a cathedral I wanted to see, but after going up hill for a couple of them, I nixed the idea and headed towards the shopping district. By this time, it was close to noon, so I stopped at the Bard & Banker Scottish Pub and had lunch. From there I did a little shopping, buying myself a necklace and earrings inlaid with abalone.
Next on my list was the Royal British Columbia Museum. I must say they have some really excellent displays and I highly recommend going there if you find yourself in Victoria!
At 2:30, I had a reservation to have afternoon tea at the famous Empress Hotel. It was very grand, though pricey.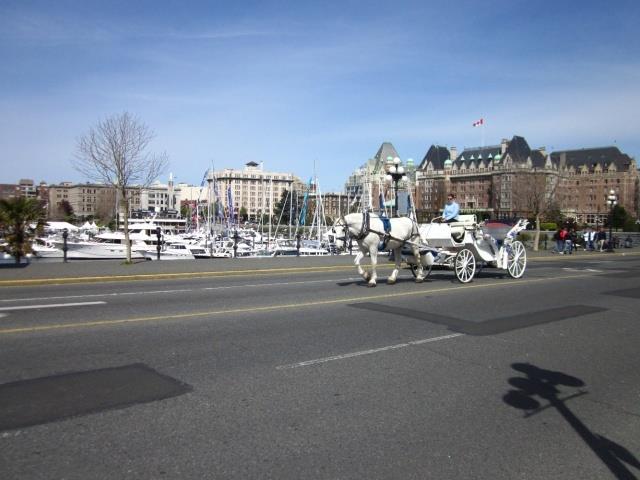 I had 30 minutes to kills, so I walked along the wharf for a bit and popped back in to the Pacific Underseas Garden (your receipt is good for all day) to check out the octopus again. Then it was close to 4pm and I had to be back to the ferry dock to go through customs and head back to Seattle. Funny – all the times I've traveled to Canada and I finally have a stamp in my passport book from them.
On the trip home, the ferry was packed. It was also an older ferry, so the seats weren't as comfortable as the early one. I bought some sea sick pills this time, because I was slightly sick in my stomach on the morning trip. Crossing the Strait of Juan de Fuca is a bit choppy and can make even the most experienced person ill. Between all the walking and the pills, I fell asleep for about an hour. While it only took 2 1/2 hours to get to Victoria, it took 3 3/4 hours going home.
After going through customs, I hailed a taxi and headed home. As luck would have it, the taxi driver was new and went in the wrong direction a few times. Since she was a woman and was quite friendly, I gave her a break and helped guide her in the right direction (she also turned off the meter). I slept quite well that night.