Caribbean Cruise – Day 5
Caribbean Cruise – Day 5
I woke up at 6:30 this morning, thinking I overslept. We hadn't ordered room service, so I was afraid to go back to sleep in fear that I wouldn't have gotten up in time for our tour. Today we are in Ocho Rios, Jamaica and will be going tubing on the White River.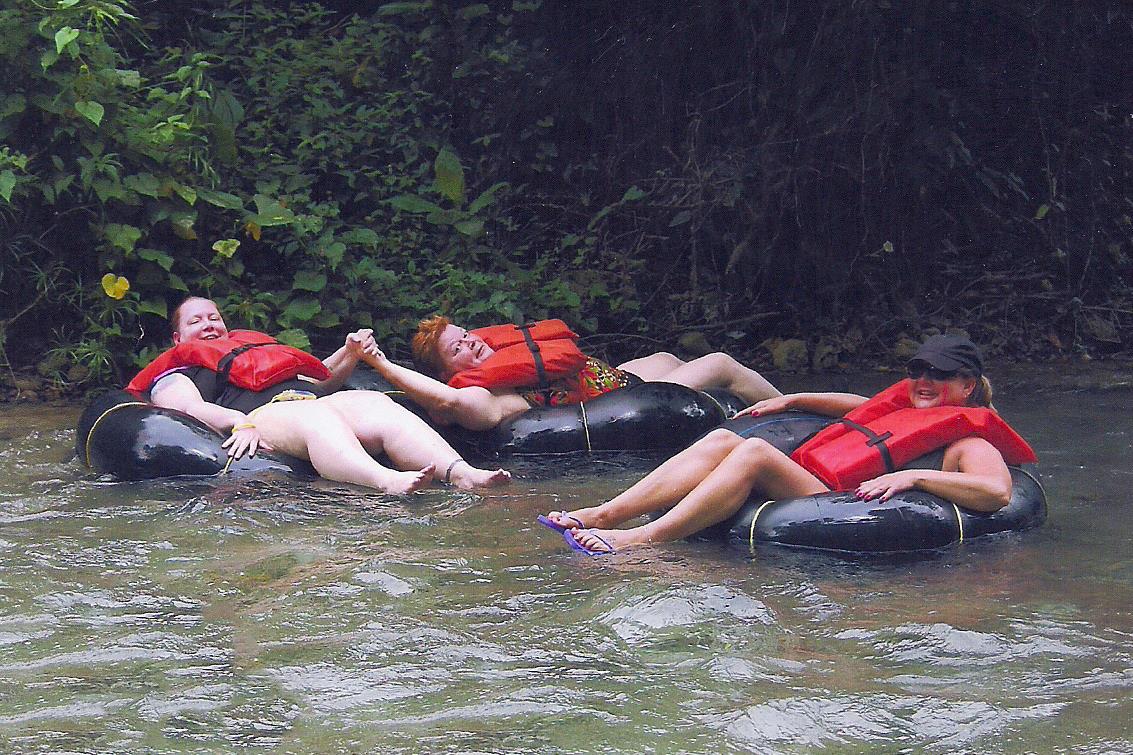 Getting off the ship was a pain in the butt. The elevator wouldn't let us go to the 1st deck, so we had to get off on deck two. We could barely get off the elevator because of all the people trying to go down the stairs. Once we got through the card swipe and walked to the end of the pier, we were herded like cattle into a building to await our tour guide. It was so packed with people, if you moved an inch, someone filled your space. There was no air circulation and I thought I was going to pass out. Other groups were leaving for their tours, but our guide was nowhere in sight. We stood there about 30 minutes before our tour guide came.
We got to the launch site about 20 minutes later and donned our life vests, grabbed an inner tube and headed to the water. The water was slightly cold, but I was so hot, it felt really good to me.The trip down the river was really fun. Some places was a slow pace and relaxing. Other places had some small rapids and it was exhilarating. Midway down the river, we stopped for a break where we could buy some things, jump off a platform into a deep spot, and/or look at the photos that had been taken of us. Karyn bought a souvenir pipe for her son…plus a little extra something the Jamaican guy sold her. IO couldn't wait to get back into the water since something was really biting me.
After the break, we got back on our tubes and slowly floated the rest of the way to the beach. There, I paid $25 just to have a buffet lunch…way too much money, if you ask me, but I had little choice since we were going to be there for another two hours and nothing else was available.
After I ate, I had a woman braid my hair so I won't have to mess with it the rest of my trip. She wanted $50, which was totally ridiculous, but I managed to get her down to $30. She snuck me into a hotel room to do my hair. Thirty minutes later, she was done, but wouldn't let me leave until the coast was clear.
We finally left the beach and headed back to town, where we were dropped off at the shopping area called the Taj Mahal. I had gotten a shopping book from the ship, so I was able to get several freebies. I could have gotten more if I had more time and was wearing out. I did end up buying a pair of sunglasses from Del Sol that have a lifetime warranty, even if I lose them! Cost was only $45 and the cruise shopping director said she was on pair 13, so they really do replace them. I also bought a seahorse pendant that has a stone that can't be found anywhere but Jamaica. And I got a really good deal since I was given a VIP card from the cruise shopping director. The stone is mounted in sterling silver and usually costs $285. I got it for $99 since I knew the owner's name and asked for him. I didn't really see any souvenirs that wouldn't be just junk and would go with our house's decor.
Now I'm back on the ship and it's about to leave port. Tonight, after dinner, Karyn and I have a reservation at the spa for a special…sauna, facial, scalp massage, back massage, & foot & ankle massage for $99.
Tomorrow is Georgetown in the Cayman Islands.
Gallery not found.